AuxParty Weekly 🎧 — Big Updates 🥳
We've fixed a bunch of bugs, rewrote our backend, and have better room controls coming in the next week
Hey Auxies,
Happy Thursday! I hope you're having a good week so far. We haven't sent out an email update in a while, but I'm excited about getting back to the weekly cadence! This email is a little long this week, but I wanted to give you all some better visibility into what's going on with AuxParty.
---
Bug Fixes
Thank you to everyone who has given us feedback and filed a bug report! I've been hard at work fixing issue and things have felt like this: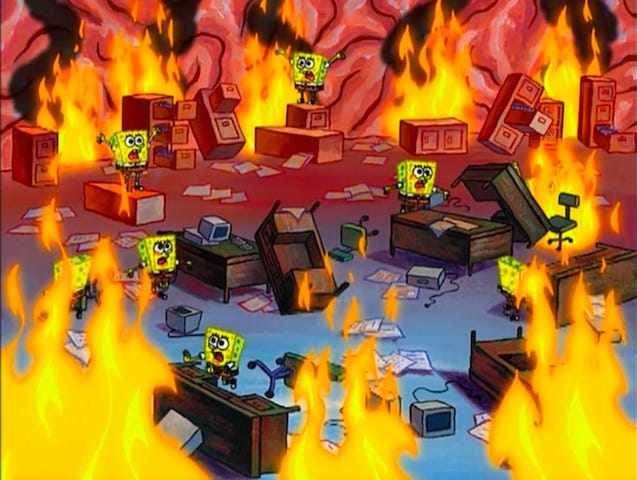 But we are over the worst! Here are some of the major bugs that have been fixed:
Server Disconnecting Issues — AuxParty was plagued by disconnecting issues for the better part of March and April. The problem was in how the original backend was written, as it didn't allow us to scale our servers quickly, resulting in countless crashes. I've completely rewritten the backend, and we haven't a single server crash due to scaling for over a month! The new architecture will allow us to scale up as our use-base grows.

Room Deletion Issues — We had an annoying bug that would delete rooms while people were in them. We changed how we monitor room deletions, so this issue should be a thing of the past!

Spotify Issues — We had some issues but now do a better job of handling Spotify errors. If this was an issue for you in the past, you should see a noticeable difference on the site.
---
New Features & Updates
Room Genre —  Let people know what kind of music you want to play when creating or running a room.

Moving around — You can now use the arrow keys on your computer to move around in a room! It's a small change, but we think it's pretty fun.
---
Upcoming Features
Fixing bugs is still our #1 priority, but we wanted to give you a little more visibility into what features we have planned to release in the next week.
Better Room Controls — We are working on giving room admins better controls to run their room. This includes temporary bans, controls for who is allowed to DJ, the ability to flag user behavior to AuxParty staff, and the ability to make a room permanent.

Better Notifications — We will be shipping an update that allows you to receive notifications when a user you follow starts DJing. (You'll always be able to turn this off)

Chat Issues — The chat is currently being rewritten
---
Welcome, Brian!
I'm excited to announce that Brian Goldstein (auxparty.com/u/BRG) is joining the AuxParty team as the Head of Marketing & Artist Relations! Brian brings with him experience working at Superfly, helping market Outside Lands, Clusterfest, & Bonnaroo.
---
Thank you, Mike!
In January, Mike made the decision to move on from AuxParty. I want to thank Mike for all of his work on AuxParty. It was a pleasure working with him, and I wish him the best as he starts his new role as a Senior Software Engineer at Ride Report.
---
Feedback
If you have feedback, ideas, or like a permanent room, we'd love to hear from you! We'll make sure to reply to all our feedback moving forward.
You can reach us by: